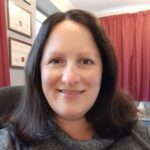 Hello, my name is Clare Byers and I am a professional counsellor in private practice, providing support for individuals in a self-contained therapy room, near Witney, Oxfordshire.
If you are in the midst of some type of difficulty or persistent feelings are causing distress, it's good to consider counselling. You may feel frequently stressed, burdened, or unsure of yourself and that can be lonely.
Perhaps you are at a crossroads, stuck, or experiencing prolonged anxiety, unhappiness or sadness? It may be that a particular life event, relationship, loss or change has left you feeling vulnerable or confused.
You might be exploring therapy for someone you know, looking to share possibilities for them along with your concern for their wellbeing.
Anyone considering private support with my services can self-refer. Choose the option you prefer (phone, text or email) to begin that first point of contact that may seem daunting. Perhaps you can find the courage to get in touch now?
Tuesday to Friday 10am – 5pm
Evenings: Tuesday and Thursday 5 – 8pm
Counsellor:
Clare ByersAd Dip PC, Dip PC, Dip Hyp CS, MNCS (Accred)
Regrettably I'm not trained to work with couples or children (under 16s).
Call/text 07391 721083 or
email clare@credencecounselling.co.uk